Partnerships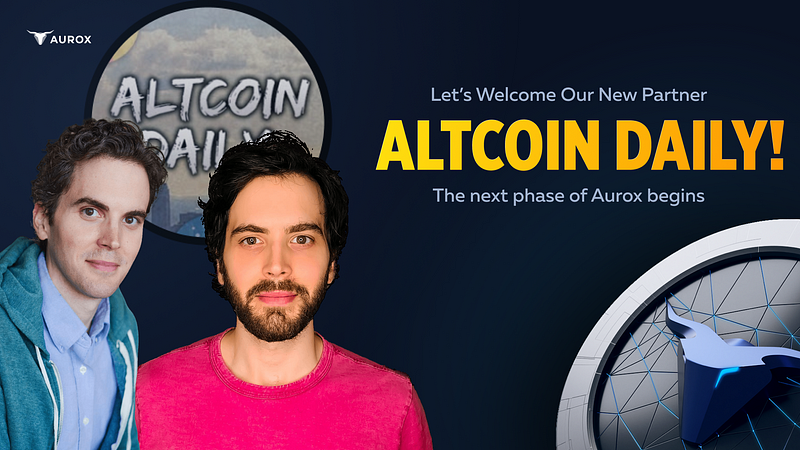 Over the past several months, we've laid the groundwork to expand our user base and community. Today, marks the cornerstone of our plan to onboarding millions of users to our platform.
We are excited to announce that Aurox has entered into a strategic partnership with one of the most consequential content creators and personalities in crypto, Altcoin Daily!
Austin and Aaron Arnold have nurtured and created the Altcoin Daily brand over years by creating incredible, engaging, and educational content which reaches millions of crypto enthusiasts worldwide. With their help, we shine a bright light on Aurox and why every single crypto user should be using the Aurox Ecosystem.
The Brothers
Altcoin Daily is a widely acclaimed YouTube channel known for its informative and insightful content related to cryptocurrency. With millions of viewers worldwide, Altcoin Daily has become a trusted source for news and market insights. The channel's unique approach to presenting complex concepts in an easy-to-understand manner has made it a favorite among crypto enthusiasts who seek reliable and up-to-date information about the dynamic world of digital assets.
We were lucky enough to meet Aaron and Arnold in person during the DCENTRAL conference. This meeting and the following conversations helped us see the commonality in our visions for the future of finance. It is what sparked our partnership, and we couldn't be happier to have such an incredible duo join our team.
The Partnership
By leveraging each other's strengths, we will create new opportunities and provide unparalleled value to the crypto communities worldwide.
Aurox will benefit from the extensive reach and influence of the Altcoin Daily brand, enabling us to expand our user base, protect more users via the Aurox Wallet and accelerate the adoption of decentralized finance.
In the coming years, both Aurox and Altcoin Daily will work together on several joint initiatives aimed at educating and empowering crypto enthusiasts. Through our partnership, we will show the world why users should ditch their clunky Yahoo-era wallets, why they should accelerate their trading through the Aurox Terminal, and why they should join one of the most cohesive communities in crypto.
A Bright Future Ahead
The partnership between Aurox and Altcoin Daily signifies a new chapter in the evolution of Aurox. Or rather, the evolution of DeFi.
We believe that this collaboration will help bridge the gap between centralized services and decentralization. With their help, we can help the crypto world understand the power of self-custody and DeFi through our easy-to-use, safe, and powerful solutions.
Aurox Nation… The bottom line is this.
We're growing. We will continue to grow. The Aurox Bull will run through the competition until we are a dominant force in the industry.. And we couldn't be more excited to have Austin and Aaron be part of our journey.
There's more to come, so be ready, Aurox Nation!