Quarterly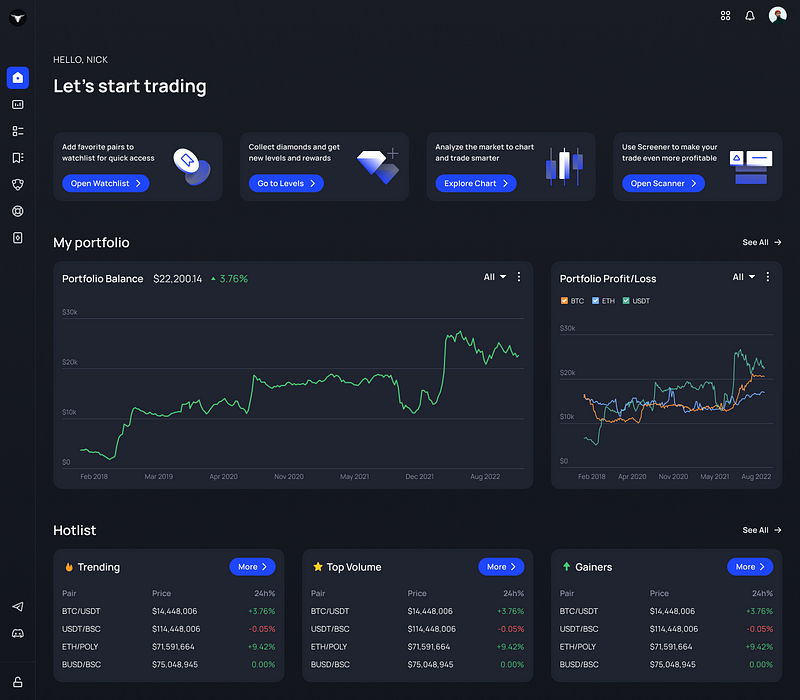 Aurox Nation, it's time we check in with you guys.
It's been a busy quarter here at Aurox, and various boxes have already been ticked.
And we think a full breakdown is in order.
So let's get right to it because there's a lot to discuss:
Planning to go public
In case you were wondering where this plan is, here's your confirmation:
We're still exploring our options to become a public company, and are happy to say there has been some significant movement.
RBSM recently completed the financial audit of Aurox, meaning we are ready to move on to the next step.
And for now, we're putting together yet another funding round and moving towards finalizing the plans for the public transaction.
Per our attorney's advice, we can't disclose details yet, but we can say this is very much still part of our agenda.
We started this entire process because becoming a public company would allow us to further grow our community, ecosystem, and transparency.
The amount of capital this would bring could help fuel our efforts tremendously as well as allow all of you to participate in changing the face of DeFi.
Bringing unique wallet features to the DeFi World
Aurox Wallet is officially in beta testing.
This means that the official launch is just around the corner.
But before that happens, we wanted to share a few key differences between our web3 wallet and other products currently on the market, such as MetaMask.
The most important one is this:
We strongly believe Aurox Wallet will be the most secure web3 wallet on the market.
We felt it was time to stop giving you sole responsibility for protecting your money.
It's time to stop pretending that most current web3 wallets don't have outdated security.
It's time to stop blaming yourself for being "inexperienced" or "not paying enough attention" after your entire savings are drained…
The current system is archaic and prevents mass adoption. Even with hardware wallets, transacting on dApps is dangerous. Not only can we not rely on the masses to purchase and lug around a USB drive anytime they want to make a transaction, but hardware wallets only protect you against malware.
It's time to guide users to make secure and wise decisions every time they're using a web3 interface while still allowing them to have complete control over their finances in a decentralized manner.
And we're not just saying that for hype. We have the features to back it up:
Simulation — you can see a simulation of the transaction as it would happen on the blockchain before you submit it; If you're interacting with a smart contract or app that will drain your funds, your wallet should alert you ahead of time
Smart contract monitoring — the wallet will tell you if the contract is safe or not. It will show if it is open source, on our whitelist, or our blacklist;
Phishing page detection — a warning pop-up will appear the second you try to copy-paste or even type your recovery phrase on a phishing site;
With these features, we've effectively tackled most major attacks currently happening in decentralized finance.
That, coupled with a sleek UI, intuitive UX, and the first-ever wallet rewards system, will propel Aurox Wallet to the forefront of innovation in the web3 market.
We'll provide more information about the wallet's features later on.
For now, meet Aurox Wallet: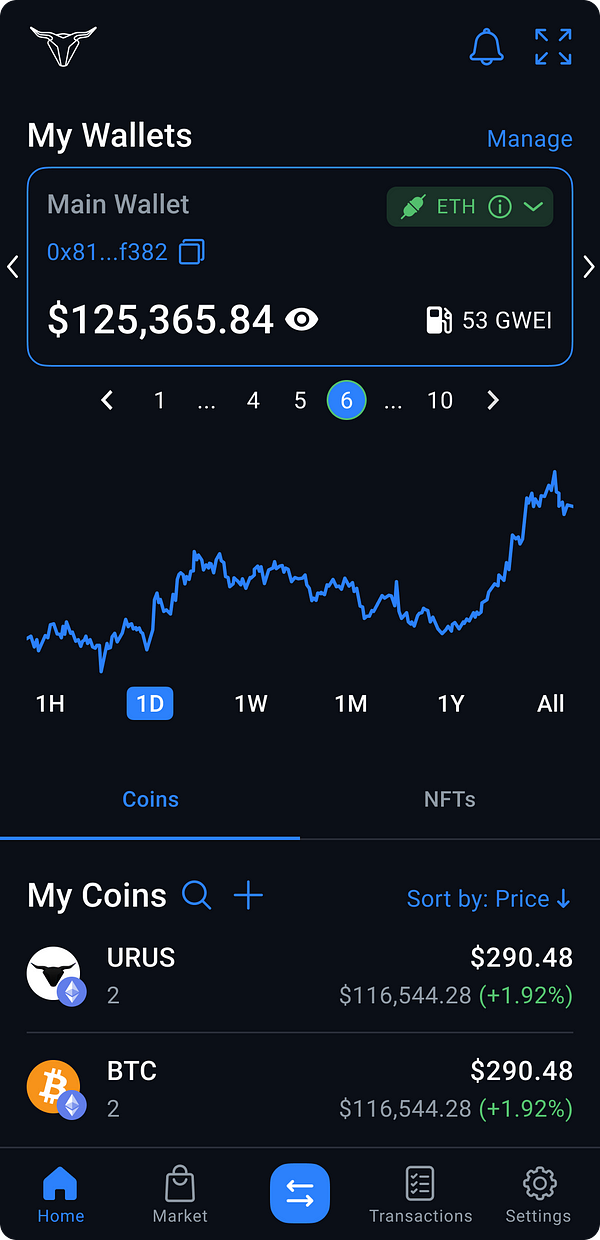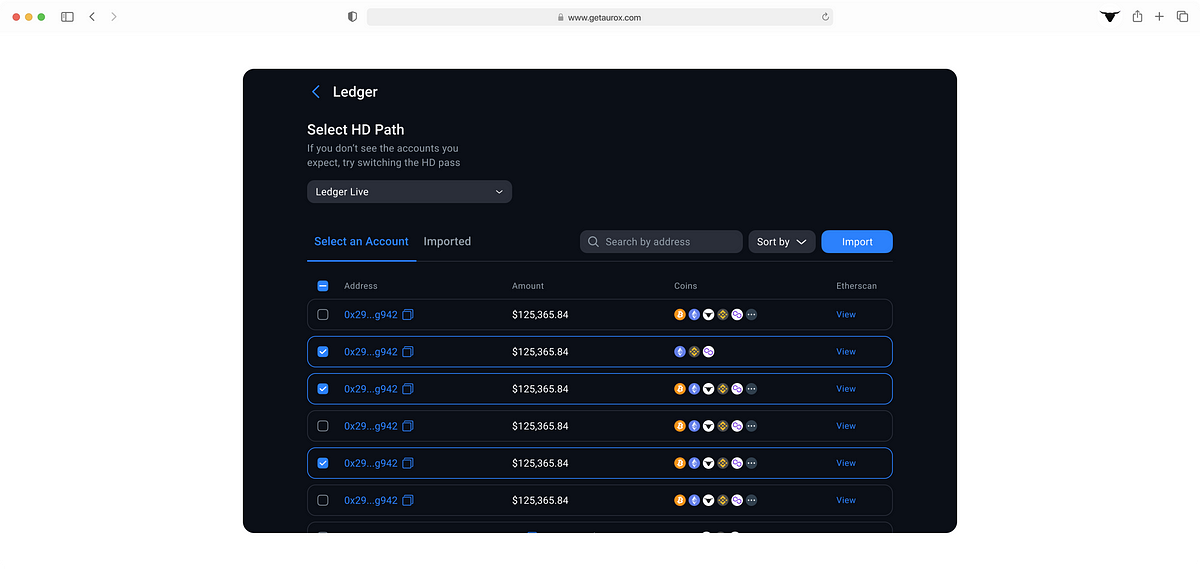 You can still sign up for the Aurox Waitlist here.
There will be an initial cap of users who will receive access. If you want to start using Aurox Wallet the second we launch, I recommend signing up ASAP.
Thorough Aurox Wallet Audit
Aurox Wallet is currently being audited by Certik. You can track the status here.
Basically, the company will poke and prod at the wallet and let us know of any potential issues and vulnerabilities we might have missed…
Giving us plenty of time to fix them before the public launch.
Top exchanges like Binance or Houbi have previously worked with Certik for their audits. Certik's industry-leading audit methods and tools will leave no stone left unturned. They'll even take a look at our code to make sure it all works as it's supposed to.
So we're confident that with their help, Aurox Wallet will be perfect from the second it's launched.
New Aurox Terminal UX
Clay is wrapping up our terminal design, and the results are exactly as you'd expect.
But check them out for yourself: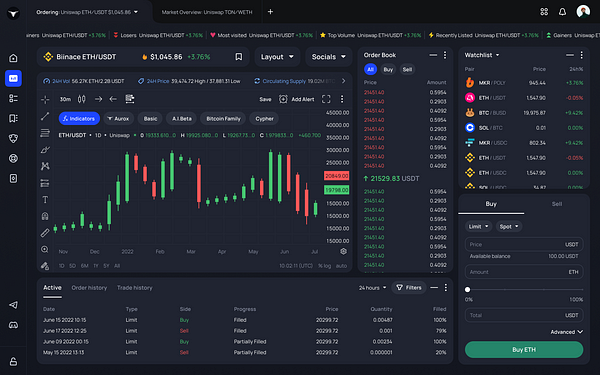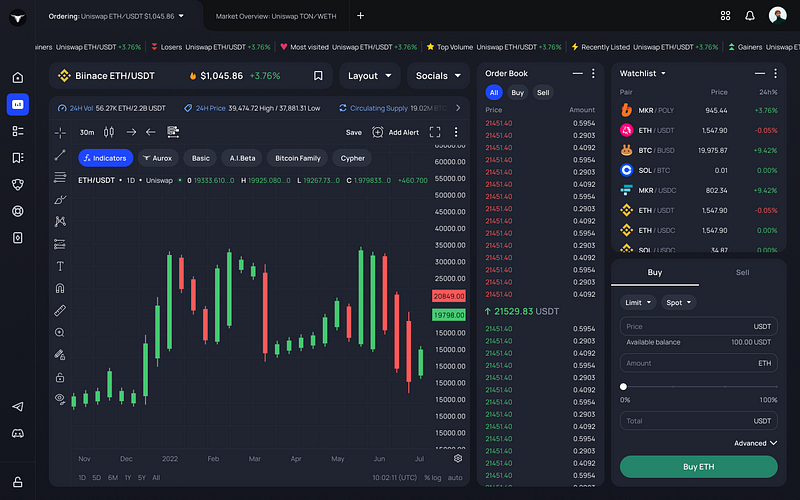 Our new terminal is essentially everything you love about the previous version, turned to the max to create a sleeker, more intuitive new terminal.
With this design overhaul, the terminal is in line with the new direction we're taking at Aurox, and we couldn't be happier with the results.
The new design will be incorporated into the terminal over the next few months, so you'll all get to take it for a spin soon.
So to sum everything up…
We like to stay busy here at Aurox.
This last quarter had many milestones we've been working on tirelessly around the clock. It feels great to see it all come together, piece by piece.
These results only motivate us to keep moving and deliver everything we said we would:
DeFi, for everyone. And nothing less.
Oh, and if you think this quarter's been a heck of a ride, then strap in.
We plan to pick up the pace even more.
Stay tuned.