Quarterly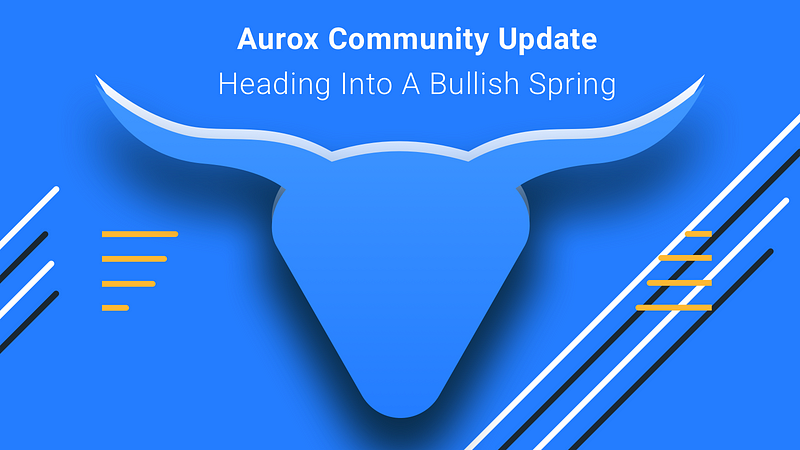 You know how when you can see the finish line, you're inspired to work harder to get there? Well that's exactly how we feel about the explosive growth of Aurox. We are on a mission to bring simple, intuitive crypto trading to the masses and help more traders make money. Our goal is right in front of us and we are driving toward it.
These past few weeks was the calm before the storm as our team prepares for an exciting Spring and Summer ahead. We know the market is fearful but our team doesn't have an ounce of fear when it comes to our future. Crypto is here to stay, and Aurox will revolutionize both CeFi and DeFi this year.
Our schedule is jam-packed with exciting new products, partnerships, and announcements. Our rapid growth strategy is full-steam ahead and right on track:
EXPANDED DEVELOPMENT TEAM: We hired three new developers last month and will be hiring another batch of developers this month. As of now, we have about 30 world-class developers bringing simple, powerful tools to Aurox Nation.
BTC CONFERENCE IN MIAMI — FREE TICKET AND NEW PRODUCTS: That's right — Aurox will again be sponsoring the BTC conference on April 6 in Miami. It's an awesome event. We will have some major new announcements regarding our ecosystem of products during the conference.
Taras and I want to thank everyone who came out and joined us in 2020 and we hope that we will get to meet all of you this year. All the founders will be at the event and even some of our community members will be at our booth to help out.
In fact, we are giving out a free ticket to the conference — Click Here To Apply
NEW WEBSITE, SAME POWERFUL TOOLS: We told you that, as part of taking steps to go public, we were going to give the Aurox website a face lift. Our soft launch of the new site will happen sooner than you think. We spent a significant amount of time and money to create a beautiful design and get it ready for the upcoming exciting few months.
EXCITING HORIZON OF ANNOUNCEMENTS: But it's always what's coming that excites us the most. First and foremost, a powerful DeFi Aurox mobile app that will make investing, tracking, and other dApp interactions extremely simple. A significant, multi-million dollar marketing campaign to continue to drive rapid user growth over the next few months.  A complete upgrade of the Aurox terminal and a new simplified tool for cross chain DEX trading. Oh, and Project Ōmi. We aren't ready to discuss that just yet, but stay alert.
Needless to say, it's non-stop here at Aurox. These next few months are going to be the most important months of our entire company, and of course, our community. Not only is our goal to grow but it's to completely disrupt this field from the ground up.