Wallet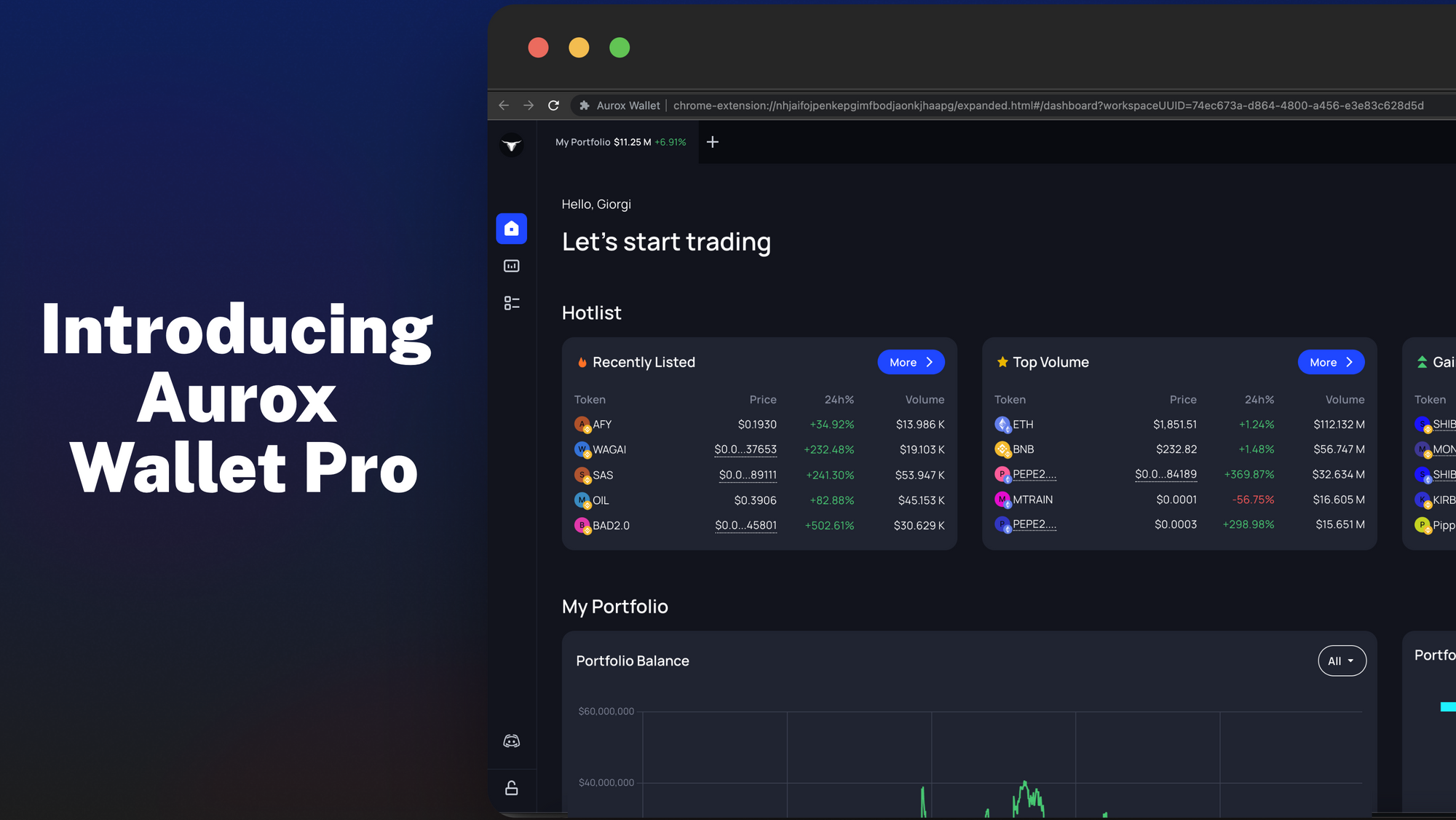 DeFi is a rocket propelling us toward a future where transactions are streamlined, automated, and non-custodial. Yet, its potential cannot be fully realized without easy-to-use and accessible products - something DeFi clearly lacks.
It is difficult to achieve adoption when the industry is steeped in overly complex software, and technical jargon. By solving these problems, Aurox can capitalize on a once-in-a-lifetime opportunity to disrupt the overall financial industry.
Today, we take another step towards our vision. We usher in an era where we emphasize the strengths of DeFi while abstracting away the complexities for a truly decentralized future.
Today, Aurox is excited to announce the release of Aurox Wallet Pro – a seamless, user-friendly, and decentralized Terminal built directly into the Aurox Wallet browser extension.
---
---
Powered by DeFi, Inspired by CeFi
DeFi's huge learning curve is a barrier against adoption; new crypto users and the broader financial industry can't realize the potential of decentralized finance when they can't even perform a simple transaction.
The average DeFi user's trading experience is incredibly tedious. It involves a multi-step process of linking wallets, annoying pop-ups, and even multiple transactions to execute a single trade. The lack of proper portfolio management, rampant scams, and unconventional terminologies further complicates the process.
The Aurox Wallet Pro connects you to the blockchain like never before. It makes decentralized finance shine by abstracting away the complexities and gives you the edge to trade like a DeFi pro.
On the surface, it's visually stunning with the user experience of any web2.0 trading platform. It feels and acts similarly to a CeFi financial trading system.
Yet, at its heart, it embraces decentralization; not only is it still a self-custodial wallet but even the terminal is hosted locally on your computer. A terminal that you own.
---
---
Trade Like A Pro — Get The Edge Against The Competition
Every second matters when the rush, and FOMO begins on a hot new token.
That's why the Aurox Wallet Pro puts you in control and allows you to execute DeFi trades in seconds.
Every single step standing between you and placing the order is eliminated. With a single click, your order executes. It's that simple.
No more fumbling with annoying wallet confirmations and pop-ups causing you to miss groundbreaking trades. It's the edge you have against the thousands using lackluster Yahoo-era wallets.
---
Demystifying Your Portfolio
Tracking your portfolio progress is the biggest challenge in DeFi, yet it's one of the most important aspects of trading and investing. DeFi users use multiple platforms and sometimes even resort to spreadsheets to get an idea of their holdings.
With the Aurox Wallet Pro, your entire portfolio data is at your fingertips .
View balances, token prices, transactions, and historical value of all your wallets in one view across five major blockchains. Take back the time you spend entering formulas in spreadsheets and focus on what truly matters; stacking sats.
Wondering how your competition is doing?
Open a new tab and paste the wallet address to view their portfolio instantly. Forget digging through blockchain explorers and transaction hashes; find the alpha in seconds.
---
---
Near Instant Tracking and Charting
The strength of self-custody shines throughout the platform.
Aurox Wallet Pro is built directly into the extension and locally stored on your computer, which means only one thing: a blazing-fast product.
Each page loads nearly instantaneously, allowing you to monitor the entire DeFi market faster than ever. By the time your competitors load Uniswap's website, you've already set Fibonacci levels on the built-in TradingView chart, and executed a trade.
---
Birds Eye View Of The Market
Decentralized trading can be an anxiety-filled nightmare — thousands of total tokens, dozens listed daily, and scams at every corner. Sorting through the mess and finding the opportunities is a full-time job.
Aurox Wallet Pro's Screener illuminates the market.
Sort tokens based on volume, market cap, and recently listed. Filter based on blockchain, price, and volume.
All these resources and many more are at your disposal, empowering you to discover the gems before anyone else.
---
Spot Scams and Fake Tokens
One of the Aurox Wallet's most defining features is its focus on security.
Aurox Wallet users can feel confident executing transactions on dApps by utilizing simulation, proactive anti-phishing, domain monitoring, and various other security features built into it.
With the Aurox Wallet Pro, we've taken the same serious approach to prevent traders from purchasing rug pulls and scam tokens.
Scammers deploy dozens of tokens daily with fake volumes to entice new DeFi users to purchase their rug pulls. In fact, we have seen fraudulent tokens mimicking genuine names during a new token launch in an attempt to mislead DeFi users.
With the help of our partners at GoPlus, the Aurox Wallet Pro displays yellow and red warnings next to the token names on the screener and the search. This contract-based analysis notifies the user of potentially risky and high-risk tokens.
Before you even click on the token, you can differentiate between the real token and the rugpull mimicking it.
---
---
Refreshed Interface
Aurox Wallet Pro is not the only exciting addition.
Meet the new and improved user interface of the original Aurox Wallet!
Over the past few months, we gathered incredible feedback from our community to help improve the product.
Variety of improvements have been made throughout to make the platform easier to use yet still powerful.
The biggest change comes to the home page which is now simpler, and more intuitive. We've also added network balance filter to allow users to filter their balances based on enabled blockchain networks.
---
What's Next For The Aurox Wallet
The introduction of Aurox Wallet Pro signifies the first step to a simple yet powerful DeFi experience. It has abstracted away some of the most frustrating and intricate obstacles hindering the broader adoption of DeFi.
DeFi represents the future, and it's time to propel the next generation of users by showcasing its true potential without compromise. Aurox Wallet Pro allows us to tap into and onboard users to DeFi, irrespective of their experience.
DeFi natives no longer have to deal with routine annoyances while trading.
Newcomers to DeFi can quickly begin trading in a manner akin to their experience on CeFi platforms.
Institutions that have matured utilizing Web2.0 trading platforms can now experience the same trading environment in a decentralized manner.
As always, our team will monitor community feedback to continue improving the Aurox Wallet.
We plan on adding support for more blockchains, extending Aurox Token utilities, integrating more DeFi protocols natively and much more. With every protocol integration, the Aurox Wallet Pro will become the go-to software for a seamless DeFi experience.
This release marks the start of an unparalleled and powerful DeFi experience, and we excited for you to experience it.