Business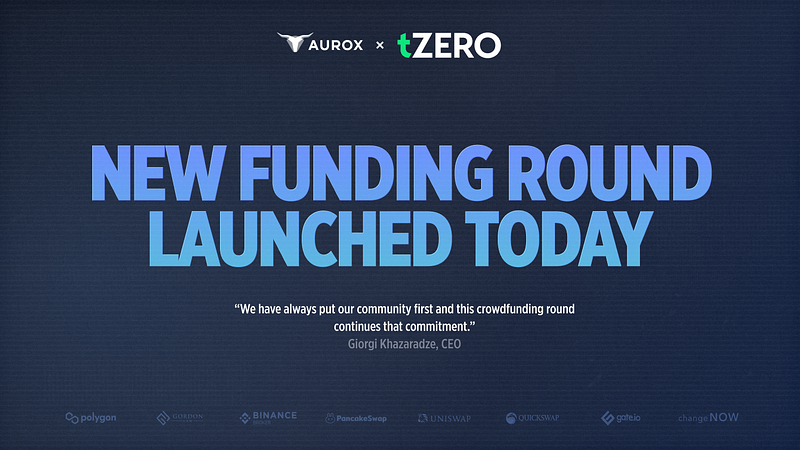 Today, we are launching a Reg CF investment round. This is your opportunity to own a piece of Aurox. By investing, you can benefit from crypto's next growth area — bringing DeFi to the masses.
Remember — this investment opportunity isn't just for Wall Street big shots. It's for everyone. And that's the point. We want you to benefit from DeFi's growth.
I know you probably have some questions.
What are we doing?
We are offering everyone, including Aurox Nation, an opportunity to own a part of Aurox at the forefront of the DeFi movement. Our campaign is launched under Regulation CF, which permits companies like Aurox to raise capital from the public through an SEC-registered intermediary like tZERO Markets.
To learn more and participate, go to: tZERO.com.
Our powerful Aurox ecosystem has caused a stir in the industry and we're gaining momentum globally. But instead of just offering the investment to insiders and accredited investors, we are offering it to all US-based investors (additional information below for non-US residents).
Why is Aurox doing an investment round?
A lot of companies raise money privately from an exclusive group of accredited insiders. But Aurox is different. We invested our own money to build Aurox. And we wanted to give all qualified investors — not just accredited investors — the opportunity to own a part of Aurox and benefit from the DeFi revolution.
What does investing mean?
First, investing is always up to you. Go to tZERO.com to read all of the information and decide what's best for you. But if you decide to invest, then you'll own a part of Aurox and benefit from the next growth area in crypto — bringing DeFi to the masses.
As a special thanks for individuals who invest, we are offering a series of exclusive Aurox items:
All investors — a limited-edition gold Aurox hat signed by Giorgi himself
$500 — a limited-edition platinum Aurox hat signed by Giorgi and exclusive "Aurox OG" T-shirt
$1,000 — a full swag package
$10,000 — an invite to a private Founders' cocktail hour
$25,000 — an invite to a private Founder's cocktail hour with travel expenses paid
What about non-USA residents?
International regulations forces us to individually explore the legal framework of each country on whether or not we can offer investment in that region.
As you can imagine, this process is complex, costly and time-consuming. We want to support as many regions as possible but only if there is interest from investors from a specific country.
We have created the following survey to explore the interest level of investors outside the United States. Please take the survey and we will follow up with you.
Survey: https://forms.gle/P9ipRp7q1m8LYVKh9
Who is tZERO?
Founded in 2014, tZERO's mission has been to democratize access to capital markets by establishing more efficient, accessible, and transparent marketplaces. They work with companies to create innovative solutions and products for primary raises, recapitalizations, and secondary trading.
Why choose tZERO?
Just like Aurox, they see the potential for the blockchain to change the financial industry. tZERO has paved the way for tokenized securities, and it hasn't gone unnoticed. In 2022, NYSE parent company ICE, became a significant minority investor in tZERO, alongside Medici Ventures fund, Overstock, and others.
We share a similar vision and path, and we couldn't be more excited to work with them.
What happens next?
Go to tZERO.com now and explore your opportunity to own a piece of Aurox.
We're excited to offer this opportunity and hope you'll join us in our mission. Please feel free to reach out if you have questions.
Investor Notice
Crowdfunded securities are generally offered by early-stage companies and investors should be prepared to lose some or all of their investment. Investors should read all of the risks and disclosures prior to making any investment decisions.
Future transactions and results are impossible to predict. Opinions and estimates offered in this presentation constitute our judgment and are subject to change without notice, as are statements about market trends, which are based on current market conditions. This presentation may include forward-looking statements that represent opinions, estimates, projections and forecasts, which may not be realized. These forward-looking statements are subject to known and unknown risks, which may cause actual results to be materially different from those contemplated by the forward-looking statements. We believe the information provided herein is reliable, as of the date hereof. Therefore, the recipient of this document is cautioned not to place undue reliance on forward-looking statements. The recipient is further cautioned that the Company does not expect to update or otherwise revise this document.
Securities are offered through tZERO Markets, LLC, an SEC-registered broker-dealer and member of FINRA and SIPC. Neither tZERO Markets, LLC, nor any of its affiliates provide any investment advice or make any investment recommendations to any persons, ever, and no communication through herein or in any other medium should be construed as such. Investments in early-stage companies are speculative, involve a high degree of risk, are generally illiquid, and can be different from traditional markets. You should be prepared to lose some or all of your investment. Crowdfunding may not be appropriate for every investor. Any discussion of liquidity is purely speculative. Offers to sell, or the solicitations of offers to buy any security can only be made through official offering documents that contain important information about risks, fees and expenses. Investors should conduct their own due diligence, and are encouraged to consult with a financial professional. Past performance is not indicative of future results. There is no guarantee that a diversified portfolio will enhance overall returns, outperform a non-diversified portfolio, or prevent against loss.