Business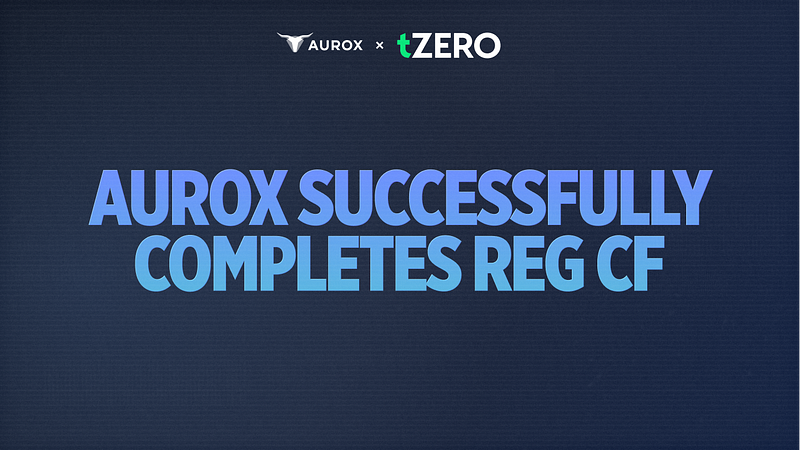 The Path
Nearly a year ago, Aurox set a big, ambitious goal: become a public company on a national stock exchange.
The time between then and now has been rocky, to say the least. Luna crashed. Celsius imploded. And FTX was accused of committing widespread fraud. None of this includes the persistent hacks on crypto traders and believers.
We believe now — as we knew then — that the only way for crypto to progress was to achieve more trust, transparency, and accountability. That's the only way we can wash away the stain left by these fraudsters and scammers.
And so, over the past year, we explored many options to accomplish our goal. One option stood out to us the most because it allowed our community to participate in our growth and become part of our company.
The Reg CF
Last Summer, Aurox began putting plans in place to launch a Reg CF investment round. For us, it wasn't about helping Wall Street big shots. It was about creating an opportunity for anyone who believed in our company and DeFi as the next growth area for crypto.
In January, we launched our Reg CF, and today we are proud to announce the official closing of the Reg CF round, with nearly 400 users investing approximately $310,000!
Thank you!
This is a massive moment for our company and our community. Why? Because 400 individual investors isn't just a number. It is one of the requirements for a company to be listed on the New York Stock Exchange.
Combined with our existing shareholders, the new investors helped check another box in our effort to become one of the first nationally publicly traded DeFi software companies.
To The New Shareholders
Although the round was closed for new investors, the official closing occurred late last week. Aurox can now reach out to provide you with more information about the next steps.
There's still a lot of work left regarding this round, but we will be in touch to provide you with information about your shares, access to the investor update portal, shipping out swag, and various other remaining tasks.
Please make sure to keep an eye out for our emails!
Thank you for taking part in this round, and thank you for helping us reach our goal! We are thrilled to get to work.