Partnerships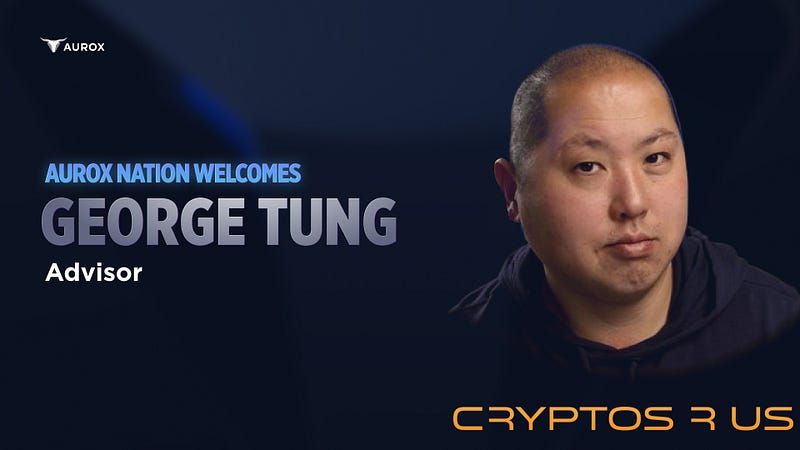 We are thrilled to announce that George Tung, known to the crypto community as CryptosRUs, has joined Aurox as an advisor!
As we embark on an ambitious journey to revolutionize the DeFi landscape, George will be an incredible addition to our team and help propel us to new heights, bolster our user base and pave the way for a successful year ahead.
You're George. We're All George
For those unfamiliar with CryptosRUs, he is a widely respected thought leader and expert in crypto, boasting an impressive track record of engaging cryptocurrency insights.
George's honest and insightful educational videos attract hundreds of thousands of individuals worldwide every week. It's no wonder that CryptosRUs is one of the most watched and influential content creators in the industry.
George built the CryptosRUs brand into the juggernaut it is today in one of the quickest growth cycles we've ever seen. That's the exact experience we're excited to have on our team to help take Aurox to the next level.
The Beginning
Some of you have probably discovered the Aurox Terminal from our previous engagements with George. He was among the first to review the Aurox Terminal and deliver a massive influx of new users in 2020. We were impressed, to say the least. Not only because of his reach and ability to drive users to our platform but because of how well we worked together.
This year, we began forming a stronger, closer working relationship, which has now progressed with him taking a pivotal role on our team.
The Future
Starting today, George will be heavily involved with Aurox — helping formulate marketing strategies, leading outreach new users and introducing the Aurox ecosystem to essential businesses or individuals.
George's vast experience and extensive network in the crypto community will be invaluable as we continue to grow. His unique insights into the market and deep understanding of user needs will help us optimize our marketing efforts and tailor our platform to the evolving demands of the crypto trading landscape. With his help, we expect to significantly boost our growth and continue to establish Aurox as a dominant force in the industry.
The Bottom Line
As Aurox continues to innovate and grow, this is the exact kind of partnership that will help usher in a new era of success for our platform and reach the wider crypto community.
In simple terms, George will help grow Aurox… and we couldn't be more thrilled to have him on our team.
Join us in welcoming George and his brand CryptosRUs to Aurox Nation.
Stay tuned for exciting updates and developments as we embark on this game-changing journey together.