Wallet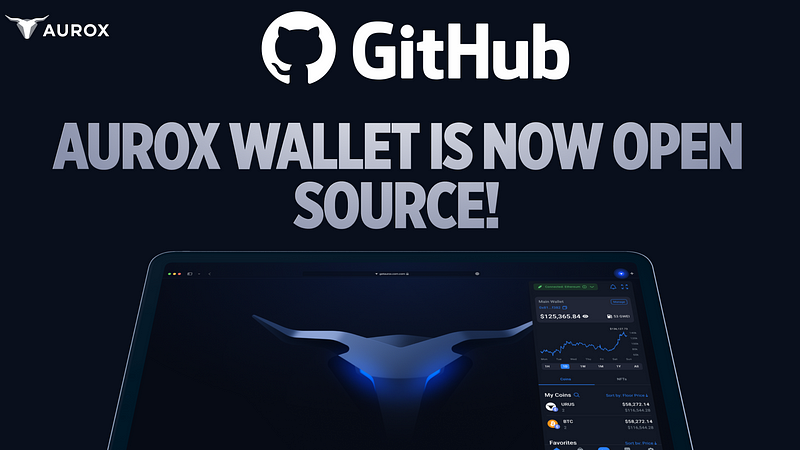 Our entire team has been heads down this year, working and planning for these next few months. We've put the pieces together one major milestone at a time to drive our company into the limelight.
But before we begin, we want to set the stage.
We've strived to be as transparent as possible when other's in this business have not. Today marks another step in that direction.
Today, we are excited to announce the Aurox Wallet is open-source. This step will help us establish further trust, credibility, and respect.
Open-source Means Deeper Trust
The Aurox Wallet is the most advanced, secure, and intuitive way for users to interact with decentralized applications. It combines our data-rich backend with a simple interface that eliminates the complexities of DeFi.
Simply put, the Aurox Wallet gives you control. No more expensive middlemen. No more "just trust us" excuses.
Trust matters most. In the wake of SBV, FTX and Silvergate, that's never been more evident than today.
And that's precisely why we are making the Aurox Wallet open-source. This step creates radical transparency — allowing users to see our source code and trust that it will do exactly what it should.
New users will feel safe downloading and installing the Aurox Wallet. The entirety of the extension is available for anyone to analyze simply by visiting our Github.
Further, it shows the Web3 developer community how much careful attention to detail and care has gone into creating the Aurox Wallet. Developers worldwide can now see the capabilities of a team of developers who are fearless in developing new innovative products rather than forks.
From Idea to Creation
One of the benefits of DeFi is that it removes needless, expensive bureaucracy. Making the Aurox Wallet open source continues that trend.
Through platforms like Github, Aurox Wallet users can now report issues publicly and see solutions immediately implemented by our team or by the 1000s of web3 developers worldwide.
What's more, everyone uses the wallet differently. If users want customized functionalities, we can release bounties to develop those individualized features. Anyone in the world can apply, implement the functionalities, and claim the rewards.
Overall, this step will mean a development explosion and a better user experience for everyone.
Click here to see the Github Repository
The Development Continues
Just because we are making the Aurox Wallet open source doesn't mean we will sit on the sidelines. Innovation is core to who we are.
In fact, we demonstrated the first true gasless swapping experience with the Aurox Wallet, which we're excited to release to the world in just a few short weeks. Our users will no longer have to worry about having ETH in their wallets just to execute a simple swap. No more Gas anxiety. No more wasted money or reliance on centralized exchanges to purchase ETH.
And our gasless swapping is the first functionality in the larger innovation we drive towards, the Aurox Trade Protocol. Aurox remains committed to making the DeFi user experience feel like TradFi while leveraging all the positives of decentralization.
Buckle up, the next few months will be exciting!