Business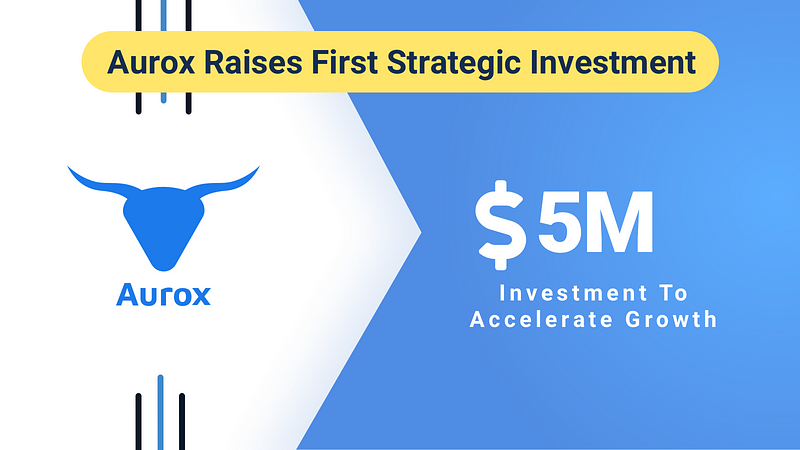 Blockworks Article: https://blockworks.co/crypto-trading-platform-takes-first-outside-money-in-advance-of-public-offering/
Aurox is excited to announce our first-ever investment into our company. This is a significant step to our path to becoming a dominating force in crypto, specifically DeFi.
Over the past few years, our company has turned down investment offers, choosing to be self-funded to nurture growth until the right moment. But now, it's time to accelerate that growth, pour gas on the fire, and take our users from 60,000 to millions.
With this investment, our company will have the ability to grow our development team, scale up marketing, and deliver products that will revolutionize DeFi.
It will also help our company accomplish our vision of being one, if not the only, DeFi based company on a major stock exchange.
The Deal
We've always cared about our community, choosing to turn down offers because we know just how much the retail can suffer in the hands of institutional investors. Everyone has seen projects ruined after institutions dump their entire supply of tokens usually structured in the investment deal.
It took a while to get to this point, but this investment aligns perfectly with our company ethos: no tokens sold and no control lost.
Instead, this round was composed of individuals who have been supporting our company in multiple ways. They're as bullish on us as Aurox Nation. They are part of Aurox Nation.
This $5M strategic round is full of investors who will help grow our company in multiple ways. They will help fast-track our goal to become public this year and support us in the aftermarkets. Several of the investors will tap into their vast network to help market our product line.
For example, one of the investors, RB Capital, has helped public companies take their bad debt, restructure them and turn them into successful businesses. Here is what they had to say about us:
Brett Rosen and Deborah Braun of RB Capital stated, "We're extremely excited to be part of the first investment round into Aurox. What they have accomplished by self-funding the entire company is nothing short of extraordinary. The dedicated following they have already amassed is very impressive and will lend itself well to their organic growth strategy. Helping them bring DeFi to the public markets will completely change the crypto industry."
What This Means To Aurox Nation
We've had to manage our business by self-funding it. The positive of that is creating and managing a very lean company. Learning and figuring out where the money is best appropriated.
Now, our company can tap into our funding to grow, but at the same time, we have the experience to make sure not a single dollar is wasted.
Over the next few months, we'll be releasing significant new additions to our products. Scaling up our development and marketing to levels we haven't done before. Our goal is to make Aurox the fastest-growing company in crypto.
We had an explosive 1,100% growth in 2021, even with a limited budget. This year we'll beat that.
Aurox Nation is about to get a whole lot larger, I hope you're ready for it.